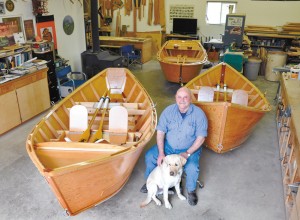 The McKenzie River's place in history is anchored by the fabulous redside trout fishing that once lured anglers from afar.
But a case can be made that the McKenzie is actually better-known as the birthplace of the uniquely-shaped fishing boat that bears its name.
Over several decades, many fishing guides and boat builders played roles in the evolution of the drift boat now seen on rivers throughout the West — and beyond.
One of the biggest chapters in the story of the McKenzie drift boat, however, was written by Keith Steele, a Leaburg Fish Hatchery employee who went on to become the area's busiest builder of wooden drift boats.
Read the entire article by Mike Stahlberg of the Eugene Register-Guard on this link.