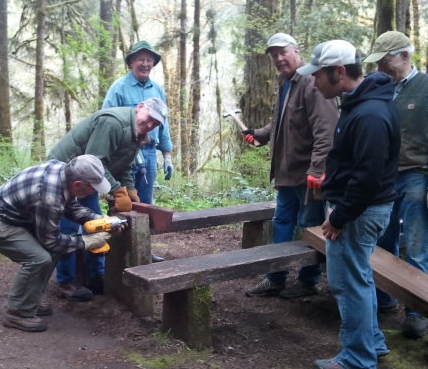 20 volunteers from the McKenzie River Guides Association met a Ben & Kay Dorris Park Monday morning to clean up the park of storm debris, overhanging brush along roadways and trails, clean BBQ pits and repair tables and benches. Thanks go to Lane County Parks for allowing this group to participate in such a large undertaking.
Ben and Kay Dorris were honorary members of the McKenzie Guides Association and donated the park to the State in 1943. It is a important boat landing just above Marten's Rapid with scenic trails along the river, paved wheelchair accessible trails and about 8 picnic sites. Ben and Kay Doris Park is a very family friendly park with much use in the Summer months.
Event organizer, Jon Payne felt that asking Members of the McKenzie River Guides Association for volunteers was the right thing to do at a time of budget crunches and the condition of the park after this winters windstorms. Twenty volunteers showed up and was able to finish the clean-up in 5 hours.
Next time you drive into the entrance of the park you can thank Mike Reardon, Doug Caven, and members of Cascade Fly Fishers for doing outstanding work.
When enjoying a picnic on one of the new benches and tables you can thank George Recker, Buzz Klevin and Dan Bentsen. Trails and road crews included Steve Schaefers, Jon Payne, Tom Lusby, Gary Williams, Don Wouda, Gene and Phyllis Highfill, Dick Evans, Dave Helfrich, Ethan Nichol, Barrett Christiansen. A big thanks goes to Dave Stark of Ike's Pizza for providing delicious Pizza for lunch.
With such a good turn out, the Association is already planning to do more clean-up at other parks in the future, "parks are important to us and it's very important that visitors to Lane county can enjoy these special areas in the future" Jon Payne said.